Alive Day Memories:
Home from Iraq Starring James Gandolfini and Dexter Pitts (2007)
Brand New - Sealed in Shrinkwrap
Price
$6

Three-time Emmy winning actor James Gandolfini serves as Executive Producer of Alive Day Memories: Home From Iraq, a documentary which looks at the physical and emotional cost of war through soldiers' memories of their "alive day," the day they narrowly escaped death in Iraq. In a war that has left more than 25,000 wounded, Alive Day Memories looks at this new generation of veterans. For the first time in history, 90% of the wounded survive their injuries, but a greater percentage of these men and women are returning with amputations, traumatic brain injuries and severe post-traumatic stress. In Alive Day Memories, Gandolfini interviews ten soldiers who reveal their feelings on their future, their severe disabilities and their devotion to America.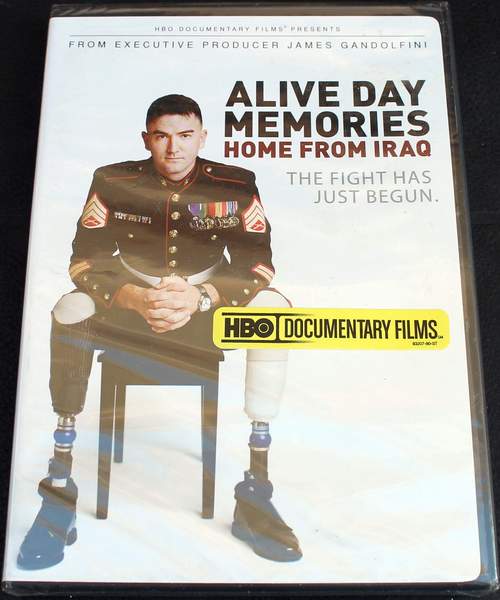 Actors: James Gandolfini, Dexter Pitts
Directors: Jon Alpert, Ellen Goosenberg Kent
Producers: James Gandolfini, Jon Alpert, Matthew O'Neill, Ellen Goosenberg Kent, Alexandra E. Ryan
Format: Closed-captioned, Color, DVD, Widescreen, NTSC
Language: English (Dolby Digital 2.0 Stereo)
Region: Region 1 (U.S. and Canada only)

Aspect Ratio: 1.66:1
Number of discs: 1
Rated: NR (Not Rated)
Studio: Hbo Home Video
DVD Release Date: October 23, 2007
Run Time: 57 minutes

I accept CASH ONLY for local pickups; PayPal or postal money orders for shipped packages.
call me (Andy) at 386-882-1408 or email me at:
I'm in Seeley Lake, MT
This item is still available if you can see this listing. I will remove it when it sells.