Iron Man (Single-Disc Edition) (2008)
Brand New Sealed in Factory Shrinkwrap.
Price
$10

Suit up for action with Robert Downey Jr. in the ultimate adventure movie you've been waiting for, Iron Man!
When jet-setting genius-industrialist Tony Stark is captured in enemy territory, he builds a high-tech suit of armor to escape. Now, he's on a mission to save the world as a hero who's built, not born, to be unlike any other.
Co-starring Gwyneth Paltrow, Terrence Howard and Jeff Bridges, it's a fantastic, high-flying journey that is "hugely entertaining" (Joe Morgenstern, The Wall Street Journal).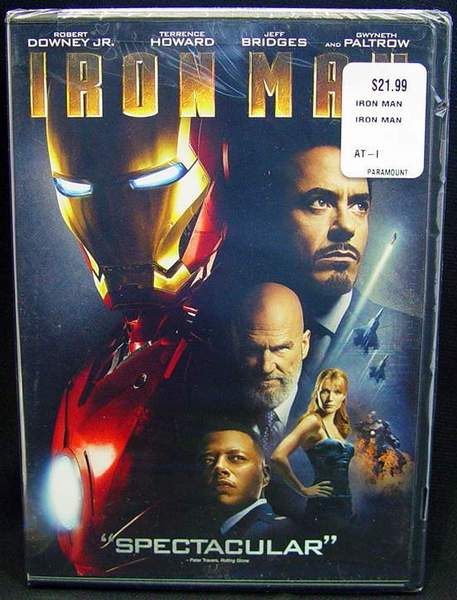 Actors: Robert Downey Jr., Terrence Howard, Jeff Bridges, Gwyneth Paltrow
Format: Closed-captioned, Color, Widescreen, NTSC
Language: English (Dolby Digital 5.1), French (Dolby Digital 5.1), Spanish (Dolby Digital 5.1)
Subtitles: English, French, Spanish
Region: Region 1 (U.S. and Canada only.)

Aspect Ratio: 2.35:1
Number of discs: 1
Rated: PG-13 (Parental Guidance Suggested)
Studio: Paramount
DVD Release Date: September 30, 2008
Run Time: 126 minutes
Additional Scenes
Trailers: Iron Man Armored Adventures


I accept CASH ONLY for local pickups; PayPal or postal money orders for shipped packages.
call me (Andy) at 386-882-1408 or email me at:
I'm in Seeley Lake, MT
This item is still available if you can see this listing. I will remove it when it sells.