My garage is "stuffed"! stuffedgarage.com
Local pickup in Seeley Lake, MT or free delivery
to Missoula. Call me (Andy) at 386-882-1408
or email me at:
FedEx shipping in USA

Lord of the Rings The Two Towers
Collector's DVD Gift Set with Gollum Figurine
Price
$25
This is not sold in stores anymore. Movies have been watched once.
Gollum figurine has not been removed from the box.


This is a 5 DVD Gift Set Special Extended DVD Edition with Bonus DVD, Gollum Figurine
and 44 page companion GOLLUM book illustrating the evolution of the Gollum character.
CONTAINS:
2 DVDs EXTENDED VERSION OF THE MOVIE,
2 DVDs for The Making of the TWO TOWERS & Bonus Features
and
GOLLUM AS "SMEAGOL" COLLECTIBLE BY WETA WORKSHOP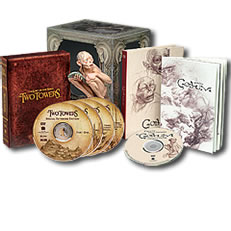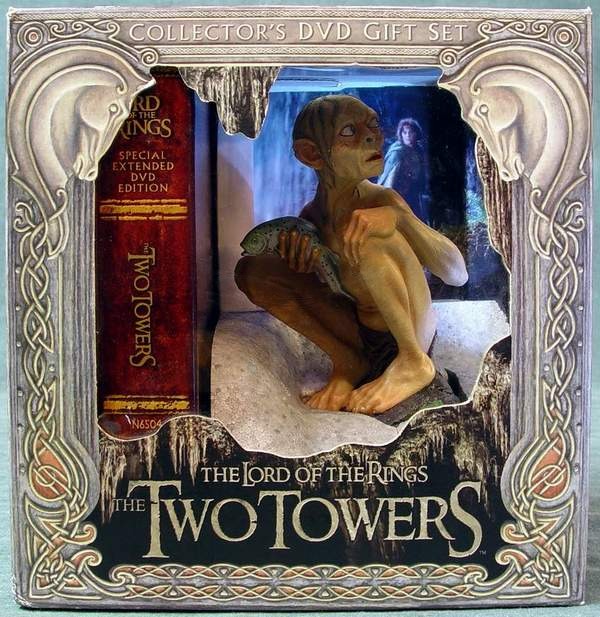 Additional Information about The Lord of the Rings: The Two Towers
Portions of this page Copyright 1981 - 2008 Muze Inc.

All rights reserved.

Movie description
Picking up where the first film left off, Peter Jackson's THE TWO TOWERS throws the remaining members of the Fellowship into the scattered chaos of Middle-earth, now fully under siege by the forces of Sauron. While Frodo (Elijah Wood) and Sam (Sean Astin) journey to the dreaded Mordor, Merry (Dominic Monaghan) and Pippin (Billy Boyd) are held captive by orcs, and Aragorn (Viggo Mortensen), Legolas (Orlando Bloom), and Gimli (John Rhys-Davies) search for their abducted companions. Soon Frodo and Sam are joined by the sulking and duplicitous Gollum (portrayed by the voice and motion-captured acting of Andy Serkis), who becomes their guide through the barren lands leading to Mount Doom. Meanwhile Merry and Pippin encounter the looming Treebeard (voiced by Rhys-Davies) and Aragorn, Legolas, and Gimli find themselves in the land of Rohan, accompanied by an old friend. As the tale continues, each scenario becomes more perilous, and fierce battles erupt at both Isengard, home of the treacherous Saruman (Christopher Lee), and the massive Helm's Deep. After masterfully setting up the world created by J.R.R. Tolkien in THE FELLOWSHIP OF THE RING, Jackson continues the trilogy with the increasingly dark and battle-filled TWO TOWERS without skipping a beat. Although the director takes a few more liberties in adapting the second installment, he skillfully cuts from one scenario to the next, creating a tightly woven tapestry with the various storylines. Joining the impressive cast this time around are Miranda Otto as ?wyn; Bernard Hill as her father, King Th?den; Brad Dourif as the aptly named Grima Wormtongue; Karl Urban as ?mer; David Wenham as Faramir; and Serkis under the remarkable CGI facade of Gollum. An intense epic that features one jaw-dropping sequence after another, THE TWO TOWERS more than carries its weight as the crucial centerpiece of THE LORD OF THE RINGS.

Credits
Producer:
Barrie M. Osborne, Fran Walsh, Peter Jackson, Tim Sanders
Cast:
Andy Serkis, Bernard Hill, Billy Boyd, Brad Dourif, Cate Blanchett, Christopher Lee, David Wenham, Dominic Monaghan, Elijah Wood, Hugo Weaving, Ian McKellen, John Rhys-Davies, Karl Urban, Liv Tyler, Miranda Otto, Orlando Bloom, Sean Astin, Viggo Mortensen


Details
Edition:
Collector's Box; Widescreen; 5-Disc Set With Gollum Statue


Notes
DVD Features:

Region 1
4-Disc Set
Additional Products:
Gollum Statue

Discs One-Two:
Contains Extended Version of Feature (208 Mins)
Anamorphic Widescreen - 2.35
Audio:
Dolby Digital 5.1 EX - English
DTS Stereo 6.1 ES - English
Stereo Surround - English
Additional Release Material:
Audio Commentaries - 1. Peter Jackson - Director
2. Fran Walsh - Screenwriter, Phillipa Boyens - Screenwriter
3. Crew Members Including Howard Shore - Composer, Andrew Lesnie - Director of Photography
4. Cast Members Including Ian McKellan - Star, Elijah Wood - Star

Disc Three:
Additional Release Material:
Featurette - 1. Designing and Building Middle Earth
2. Book Adaptation
3. Workshop of Creatures and Miniatures
Additional Footage - 1. Moving Storyboards
Text/Galleries:
Storyboards
Atlas - 1. Middle Earth
Art Gallery (With Artist Commentary)
Interactive Features:
Interactive Map - 1. New Zealand (Highlighting Scouting Process)

Disc Four:
Additional Release Material:
Featurettes - 1. Bringing Characters To Life
2. Principal Photography
3. Scale: Creating the Illusion of Size
4. Sound Design Demonstration
Mulitple Angles - 1. Visual Effects
Text/Galleries:
Behind-the-Scenes and Personal Cast Photographs

Disc Five:
Bonus Featurette - 1. THE EVOLUTION OF GOLLUM

Theatrical Release Date: December 18, 2002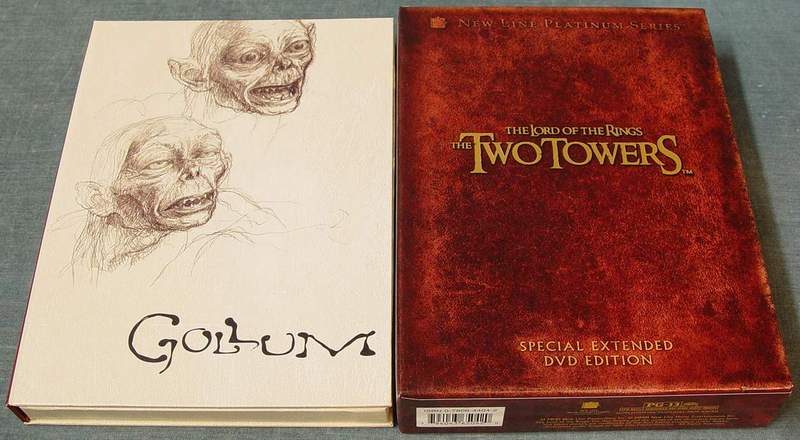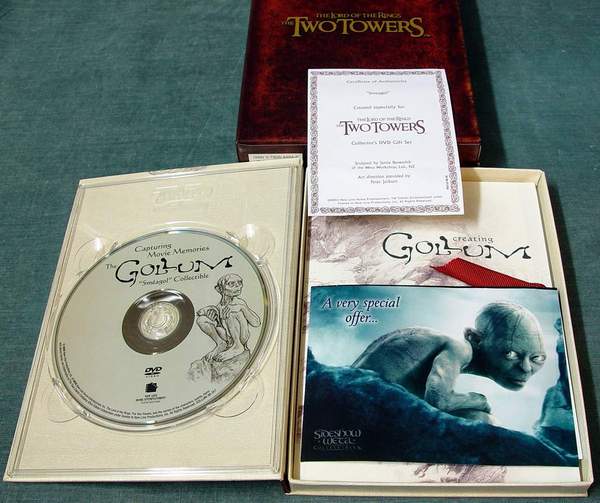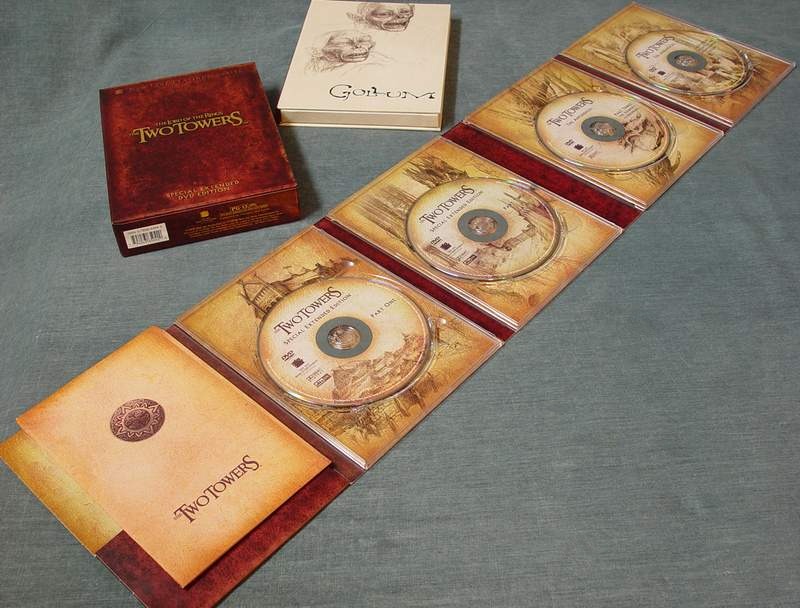 I accept CASH ONLY for local pickups; PayPal or postal money orders for shipped packages.
call me (Andy) at 386-882-1408 or email me at:
I'm in Seeley Lake, MT
This item is still available if you can see this listing. I will remove it when it sells.
I have other DVDs for sale too - click here: