NAKAMICHI BX-100 (BLACK)
2-Head Cassette Deck
with Owners Manual
Cosmetically in excellent condition
Does not play.
I believe that this needs belts.
Sells for about $150 when working.
$25
I have all the parts for a
Technics RS-TR265 Double Cassette Deck
Let me know what you need.

ONKYO TA-RW490
HX PRO Stereo Double Cassette Tape Deck
Needs belts on both sides
For Parts or Repair
$20

YAMAHA K-550
Stereo Wood Cassette Tape Deck Player
VERY NICE unit but needs main belt (actually 3 belts altogether).
The physical appearance is excellent with minimal scratches. I don't see any on the face.
I verified that both meter lights are indeed working!
This would be a great deck to restore!!
I cannot test it any more because of the bad belts.
I'm selling it AS-IS for Parts or Repair.
$25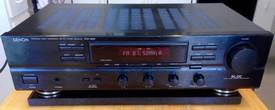 DENON DRA-365R
100-Watt Stereo Receiver
For Parts or Repair
This turns on and there is sound. It sounds like the radio is tuned between stations. Adjusting the volume control does work too. However, this IS tuned between stations on AM and none of the buttons on the front panel have any effect, so I can't switch the bands, I can't tune it, I can't switch to CD mode, etc. I noticed that the previous owner has a couple wires coming out the back of the unit near the plug. I traced it up to the front of the front circuit board. I did not remove the board.
May be an easy fix for someone since the amp section seems to be working as well as the tuner...just none of the buttons on the front.
Sold AS-IS for Parts or Repair
$20
SONY TC-105 REEL-TO-REEL
TAPE RECORDER
bought this 4 or 5 years ago from a friend.
(Yes, we are still friends)
Made notes after testing:
"Everything works, Did not test record features, Did not see VU meter move, May have a bad record level control". No further testing.
It's been sitting on a shelf ever since then.
Cosmetically it is in excellent condition.
All original everything.
selling it as-is
$40
Good deal for a vintage SONY tape recorder!