Saw (Full Screen Edition) (2004)
Pristine Disc Viewed once! - NO Scratches
Price
$5

Adam (Leigh Whannell) wakes up in a dank room across from Dr. Lawrence Gordon (Cary Elwes) and the body of a guy who has blown his own brains out. Not a happy place, obviously, and it gets worse when both men realize that they've been chained and pitted against one another by an unseen but apparently omniscient maniac who's screwing with their psyches as payment for past sins. Director James Wan, who concocted this grimy distraction with screenwriter Whannell, has seen Seven and any number of other arty existential-psycho-cat-and-mouse thrillers, so he's provided Saw with a little flash, a little blood, and a lot of ways to distract you from the fact that it doesn't make a whole hell of a lot of sense. Wan and Whannell (who's not the most accomplished actor, either) pile on the plot twists, which after some initially novel ideas become increasingly juvenile. Elwes works hard but looks embarrassed, and the estimable Danny Glover suffers as the obsessed detective on the case. The denouement will probably surprise you, but it won't get you back the previous 98 minutes.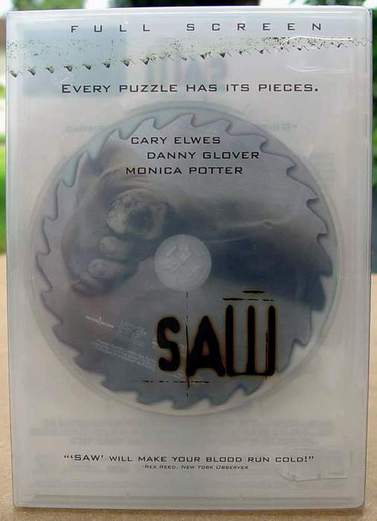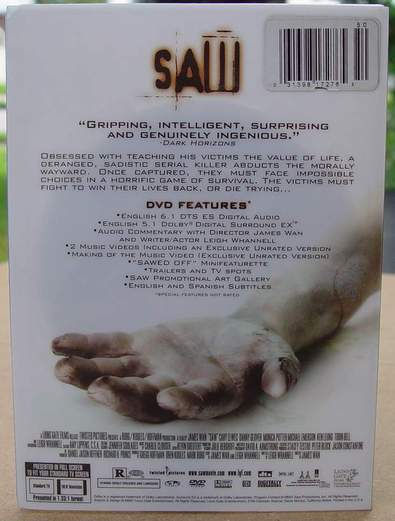 Saw (Full Screen Edition) (2004)
Actors: Cary Elwes, Leigh Whannell, Danny Glover, Ken Leung, Dina Meyer
Directors: James Wan
Writers: Leigh Whannell, James Wan
Producers: Daniel J. Heffner, Gregg Hoffman, Jason Constantine, Lark Bernini, Mark Burg
Format: Closed-captioned, Color, Dolby, DVD, Full Screen, NTSC
Language: English
Region: Region 1 (U.S. and Canada only)

Aspect Ratio: 1.33:1
Number of discs: 1
Rated: R (Restricted)
Studio: Lions Gate
DVD Release Date: February 15, 2005
Run Time: 103 minutes

plus additional DVD features


I accept CASH ONLY for local pickups; PayPal or postal money orders for shipped packages.
call me (Andy) at 386-882-1408 or email me at:
I'm in Seeley Lake, MT
This item is still available if you can see this listing. I will remove it when it sells.